An article contributed by Richard A. Slowik
The first Polish wedding I ever attended is most memorable. It occurred in Debica in 2005 and actually lasted for a three-day period — rather typical for such festive occasions. I tried to attend each and every facet of this celebration. During the first day, friends and relatives usually arrive. It happens a day ahead of the wedding ceremony to which they have been invited. They often visit the homes of the marriage participant to which they are connected, during that time. I continued this tradition by paying a visit to the parent's home of my dear cousin Peter. When I arrived, he was still at work, but his parents (my Uncle Ewaryst and Aunt Sophie) greeted me with that one-of-a-kind Polish welcome they reserve for family members.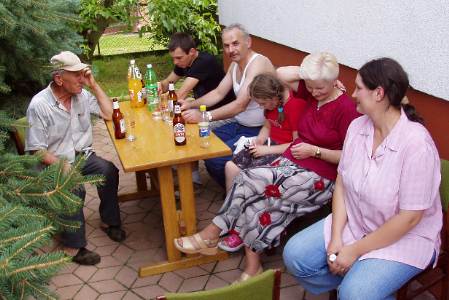 My Uncle Ewaryst (at left) entertaining guests at his small farm on Day One
They operated a small farm, consisting of two cows for milk (some of which they transformed into cheese), a large flock of chickens, and a medium-sized garden in the rear. I grew up on a farm, so I understood everything about their operation. The place is located in Wola Zyrakowska, just outside Debica. My cousin Sophie (who has an apartment in Debica) helped me get here, from the hotel in which I was staying in central Debica. It was relatively easy. We traveled by bus. It was one of the cheapest rides on which I have ever gone. We were the first to arrive that day, and soon others came from as far away as Poznan. In almost no time at all, we had expanded to about fifteen guests. Later, after getting off work, Peter arrived. So now, he was present. I also met his fiancée while there. In addition, his brothers and sisters, cousins, neighbors, etc., all came by at one time or another. The afternoon was filled with a flow of people in and out of the premises. Very late in the evening, I returned to my hotel. My special taxi driver (the one I chose from a group on my very first day in Debica) came and got me.
The next day, the day of the wedding ceremony, I left my hotel room around 1 p.m. My taxi driver took me to the church in which my cousin Peter Zaucha would get married. The church has the name of "Holy Cross." Primarily, I was there to take camcorder movie film and still camera photos of the church ceremony, and the reception later. My equipment consisted of one still camera and one camcorder.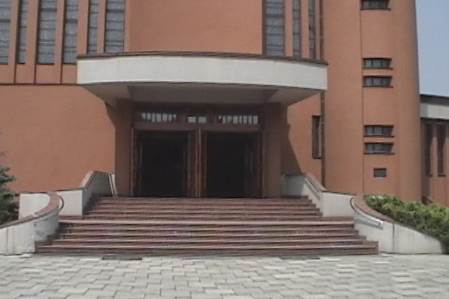 The front of Holy Cross Church in Debica
I got to the church around 1:15 p.m. They were vacuuming and dusting inside as I got out of the cab. The ceremony was to begin in 45 minutes. Nevertheless, I got my gear together so I would be prepared to document as much as I could. I had to load flash memory cards into my camera, DV film into the camcorder, and fresh batteries in all of them. Soon, friends and relatives of the couple started arriving—many of them, I didn't even know. I planned to change that soon. Nonetheless, I began filming and taking photos of as many of them as I could. Everybody was dressed-up in their best outfit.
Meanwhile, the bride and groom were making ready for the coming events. Usually, during this period, they meet at the home of the bride, along with parents and grandparents to receive their blessings for a happy and blissful marriage. That already occurred earlier, much to my dismay—but only because I didn't know about it, and therefore wasn't present. Eventually, the bride and groom arrived at the church together—that's traditional. Soon, they stepped out of their automobile to the delight of the small crowd that had accompanied them. Aneta, the bride, was bedecked in a white gown and a white veil. She was most lovely.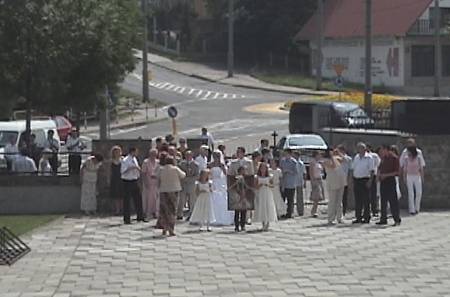 Bride and groom arriving at the church along with a small crowd
As for the groom, Peter wore a fitted, gray-colored suit, with necktie and vest. He also wore a pink carnation as a corsage. He looked superb. Most of the invitees were friends and relatives of the couple. They all wore broad smiles and seemed happy to be here. It was a bright and sunny day and all the attendees wore that kind of look on their faces. The number estimated to attend was supposed to be around 120 attendees. To me, that was an average number based on the past weddings to which I had been invited. Peter had the figures in his head and relayed them to me. Almost as soon as the crowd for my cousin's wedding arrived, they entered the church. If nothing else, it was too hot to stay outside.
Inside, they chose seats on their own, i.e., no ushers. From what I could see, people sat wherever they wanted to - regardless of their relationship to the wedding couple. Parents on both sides even sat in the same row together. The temperature was very cool inside, and it was most comfortable. Outside humidity, which was extremely high to me, stayed outside. For that, I couldn't have been more thankful. I was so glad that I had decided not to wear a suit coat. My necktie was already strangling me—as it was.
At the appointed time (2 p.m.), the bride and groom entered the church through the center doors. Everybody else stood, admiring the young couple. Meanwhile, they continued moving up the aisle to the kneelers, strategically placed near the foot of the altar. The organist played the appropriate music, all the while.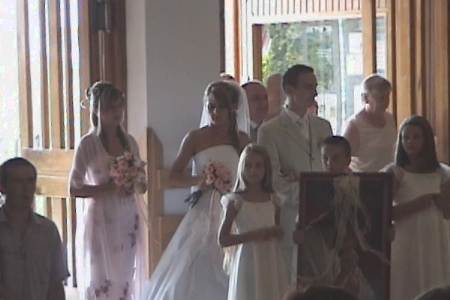 Wedding party about to walk up the aisle of the church
Being that this was a Roman Catholic rite, the priest welcomed the bride and groom as well as the invitees. It must have been a proud moment for the parents, and close relatives. I was too busy to look over at them and check for tears, although I knew that must have been the case. Anyway, I know that my emotions were aroused.
Without significant pause, the priest proceeded with the Wedding Mass. All of this was in accordance with Polish wedding tradition. A full High Mass was about to ensue, because the occasion called for it, and so did the religious rites of the Church. A short talk by the priest occurred at the appropriate time, during the homily, and must have been filled with kind words about the couple. Everyone welcomed the comments with broad smiles on their faces.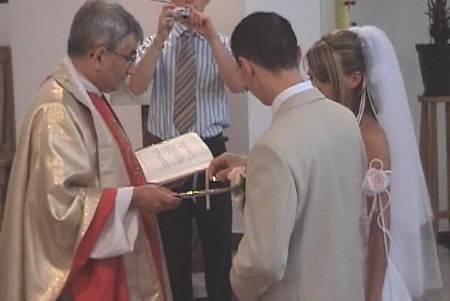 Wedding rings about to be exchanged
The couple placed wedding rings on the right hand of their mate and voiced vows to each other. We could hear them, because the acoustics were excellent. Of course, my fluency in their language was insufficient to understand much of it. With the ceremony coming to an end, the priest blessed the marriage. He then continued with the Mass. This too is pretty much standard procedure, and in accordance with the Polish way. Holy Communion was first rendered to the newlyweds, at their kneelers. Afterwards, the attendees sitting in the pews came up to personally participate in receiving this sacrament. Signed certificates of marriage were presented to the couple by the priest, and then passed to the witnesses for safekeeping. This completed the legal requirements. All of this took a little over an hour to complete. It also included some comments by the Priest during and after the ceremony.
Following the sacramental rite, the newly married couple walked down the aisle, with the organist playing the wedding march. Then, they exited the church at the center doors. By this time, I was already outdoors to film the proceedings. It seemed to take only a few minutes for the guests to form up on both sides of the bride and groom, for the group picture. I got my own. Of course, I was not in the picture itself. That did not last long, however. My Cousin Peter whispered out loud for me to "get up here." I complied.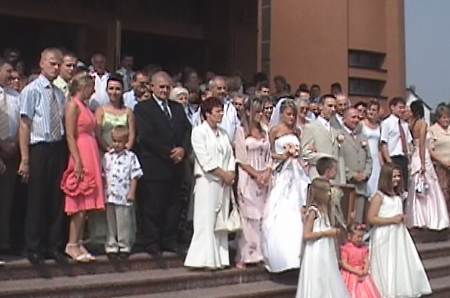 Group picture in front of the church with the wedding party in the center.
Being that this was the middle of July, it was a bit muggy. The climate here is much like that in Detroit, where I was born and reared. Some men wore coats, but I found it more suitable to wear a short-sleeved shirt with necktie.
I continued with my self-imposed duty of recording as much as I could. My aim was to get close-ups of the relatives as they embraced the couple. At times, that was a bit difficult. Also, I tried not to interfere with the hired cameraman. After all, I presumed that he didn't come cheaply for the pair of newlyweds. With so many invitees snapping a favorite shot, however, there is little doubt we got in each others' shots.
Quite common is a convoy of participants' cars to accompany the newlyweds to the reception hall. Such took place this time too. Honking horns called attention to what the parade was all about. They first must pass through pairs of young children, who hold ropes across the street, and require a monetary toll fee before letting the cars pass along. Coins are acceptable, usually in any amount. This too is a Polish tradition, slowly losing favor with the younger invitees.
I rode with the groom's parents, my Uncle Ewaryst and Aunt Sophie, in their tiny Polish Fiat. We drove near the middle of the automobile procession, on our way to a building called the Malibu - the reception facility the couple had chosen.
When arriving at the reception hall, traditionally, the wedding party is greeted by someone at the front door—dressed in fancy regalia. That definitely occurred at this wedding. The lady in charge held a silver plate; atop it were small amounts of salt and small pieces of chocolate. Salt is tasted by the married couple to remind them of the bitter side of life; while the chocolate covers the opposite aspects.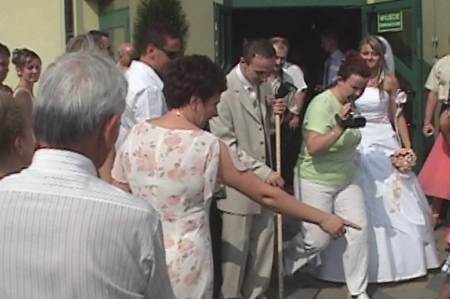 Picking up the pieces with the pointed help of the groom's sister
As soon as they get inside the reception hall, everyone grabs a glass of champagne. Waiters and waitresses are strategically placed, holding trays filled with half-full glasses of champagne. Then the newlyweds are given enough room so that everyone can take their snapshots of the couple, or film them downing their drink. Also, room is needed for them to toss their empties over their shoulders, and not strike anyone.
Sometimes, at this point in the proceedings, "Sto Lat" is sung aloud by everyone, wishing the newly-wedded couple a long life. Such did happen at this reception. Afterwards, a toast to the newly married couple occurs and everyone drinks their glass of bubbly liquid. For some reason, the wedding pair almost always seems to take the longest amount of time in finishing their drinks. I guess it's just part and parcel of the proceedings. It almost appears to be in slow-motion, to me. When finally they do finish, they once again fall in line with tradition, as practiced at every Polish wedding I have attended. It is totally predictable.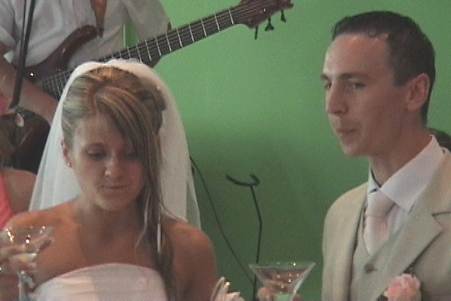 Wedding couple and their glasses of champagne
The couple throws the glasses over their shoulder, after which they must collect all the broken pieces and keep them for good luck during their marriage. They are handed a broom and dustpan to accomplish this.
Next, a reception line is formed. Guests get in line and take their turn congratulating, hugging, kissing, and "well-wishing" the newlyweds. To be at the end of this means one may have to wait a very long time to get to the head of the line. In addition, the ladies give a stuffed doll to the bride, a bouquet of flowers, or both. The bride usually has her hands full, and so the female witness is often assigned the duties of taking these gifts and placing them somewhere to the side. The groom, on the other hand, is often handed an envelope stuffed with money. That is taken by the male witness to guard over during the proceedings.
Usually, it often takes over an hour for this part of the celebration to conclude. It seems that everyone has previously worked on exactly what they will say and perhaps even practiced it out loud. Now, if only I could understand the language better, maybe I would enjoy listening in. Guess I just have to work harder on that aspect.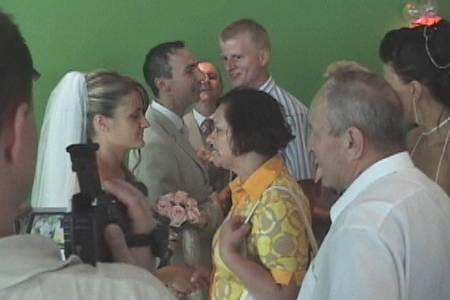 The newly wedded couple is being congratulated and wished well.
All that took almost an hour to complete. Many dolls, flowers, and money passed hands. I managed to film almost all of it.
Next, on the standard list of activities, is eating. Once seated at the tables, guests initially partake of a bowl of chicken soup. For starters, that's standard fare at every wedding I've ever attended in Poland. I rather like it myself. Serving plates are then passed around heaped with sliced ham, roast beef, baked chicken, breaded pork cutlet, etc. Bowls of boiled potatoes, salads, green beans, etc., follow as well. So much food is prepared, that one cannot avoid getting "over-stuffed." All night long, fresh servings are brought out too. No one goes hungry if they attend any of these celebrations, that's for sure. Maybe one needs to come to these affairs on an empty stomach. That has always been my plan. In fact, that's exactly what I did at this affair. Getting food otherwise was not an easy thing to do.
To drink, everyone has a choice of soda pop, vodka, ice water, milk, beer, compote, etc. My plan was to try all of them, throughout the long night ahead. They even offered hot and iced tea, plus all kinds of hot coffee to help one last until early morning. My idea was to stay here as long as I could.
The temperature inside the hall never was to my liking, however. An air conditioner was located very high, near where the ceiling and wall met; however, it never did the job intended. I often stood directly in front of it, and tried to cool off. Another problem, even more disconcerting, was all the cigarette smoke that hung in the air. Being a non-smoker, it was definitely unwelcome to me. Several times, I had to go outside, even though it was dark, just to catch my breath again. I hope the people here learn to abstain completely from this bad habit.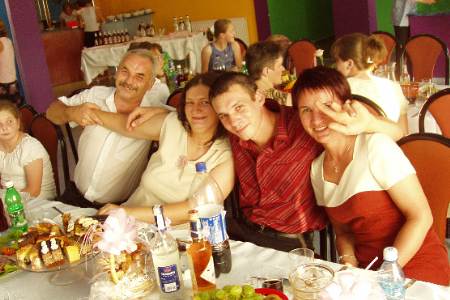 My relatives are full of fun and frolic.
Eat, eat, and eat! Although I am sizeable enough already to pass on this, I felt obliged to "dig-in," as it were. So, I set my cameras aside and did what everyone else did. I must say, I thoroughly enjoyed each and every bite. There is absolutely no doubt as far as I am concerned, Polish food is always the very best anywhere. I never let a plate pass me by without taking some portion off of it for myself. This night a lot of serving plates came my way, and I just had to taste-test each one of them. Most of their salads consist of finely chopped vegetables and some even have apples mixed in with them. If nobody told you that, you would never know, because everything blends together so well. They resemble cold-slaw and are of that consistency. I always took some just for the fiber. Their favorite way of cooking potatoes is to boil them, and that's what I had. I really like them. I often spread a little amount of butter on them.
Most of the people sat down most of the time. I often joined them, because it was just too hot to dance. Besides, I wanted to meet as many of them as I could. Dancing is much different here than what we learn. They seem to have a different beat and I could not pick it up. My two left feet also pose a problem in this regard. I guess my only vow is to learn how to dance the Polish way—someday soon.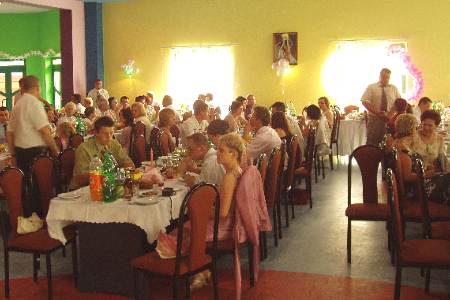 Just some of the large crowd in attendance, sitting at the tables
Most often, a band provides music for dancing and entertainment. At this reception, the band was absolutely outstanding. They played everything well, from Polish dance music to modern day songs. Except for the distinctly Polish varieties, I recognized all the rest of the musical entertainment.
Another frequent occurrence is the photo op. Since most relatives never see each other save for these get-togethers, group photos are mandatory. Anytime and anywhere is good for such to occur. Nobody objects to these requirements, and some often seek out such opportunities. It seems like almost everyone has a camera. I needed to take as many pictures as I could, so that I could show it to interested relatives when I return home. So many know so little about their relatives over here, even though they are just as much legitimate family members as are those back in the USA. So, I tried to organize group photos for my purposes as did others. Unfortunately, I could not be in many of them. Using a camcorder allowed me the opportunity to capture the voices and facial expressions of this extended family. The younger ones could speak terrific English, because they learn it in school nowadays. So, they could speak to their kin in the USA. I also recorded the older relatives speaking, because many of my older relatives in the USA understand the Polish tongue. I enjoyed chatting with the older folks, although limited by my inability to understand too much of the language, because they have so much to say that we just do not know here in the USA. Although separated by time and distance, over the years, they have never forgotten their American cousins and have a deeply felt love for all of them. Many suggested that I pass on their feelings when I returned home.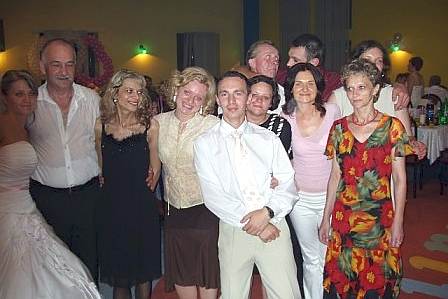 A standard photo op taken during the reception - everyone a relative of mine.
During the nighttime, many toasts are rendered, and can be proposed by anyone in attendance. Vodka is the drink of choice, and the bottles are emptied all night long. Probably, it is the most consumed beverage of all. A little "ditty" called "Sto Lat" is also sung along with many of the toasts. Nobody knows who wrote it, or even when it became such a "hit" at these affairs. It translates to 100 years, and the words suggest that the newlyweds be allowed to live to that age.
The kids have their fun as well. It seems that their favorite pastime at these events is running all over the place—adults be damned. They interfere with dancing couples, those eating at the tables, and others who would rather be chatting than disturbed by screaming, running kids.
When the band finally took a break, I walked toward the bandstand and took a photo. It was almost unbelievable that so many stuffed toys had been given as presents to the bride. What could one possibly do with all of them? I was left to wonder about it all by myself.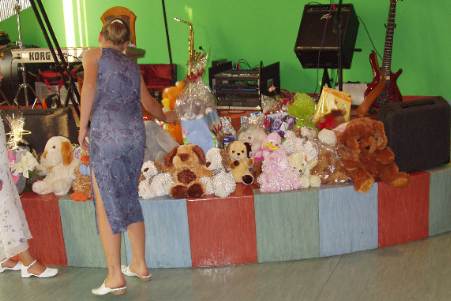 Stuffed, cuddly, little presents for the bride.
Contests and games usually occur at these festivities. They begin late in the evening. Most stem from everyone getting in a large circle, with the women in the center and men on the outside. Hands joined, they move in opposite directions until the music stops. At that point, everyone must also stop. They are supposed to hug the person opposite them. In another, almost everyone forms a big circle. Two or three are inside the circle. Those inside get to select someone in the circle and they then kiss them several times. The person kissed, then gets in the center and finds someone else with whom to do the same. This goes on and on for an hour or so. All of this takes place with the band playing suggestive music. The games are all in the spirit of fun and are taken in that vein. Nobody minds the rules of the games, and everyone knows them ahead of time, being that they are almost traditional at Polish weddings everywhere.
Instead of tossing her bouquet, the bride sits in a chair encircled by young maidens. They are supposed to keep the groom from removing the bride's veil. Usually, however, the groom wins and gets the prize. The young ladies have performed their role and still have one more to do. Next, the groom returns the veil to the bride and then, standing behind her, he uses his hands to cover her eyes. The maidens dance around the two, and when the music stops the bride has to toss her veil over her shoulders. One of the maidens has to catch it.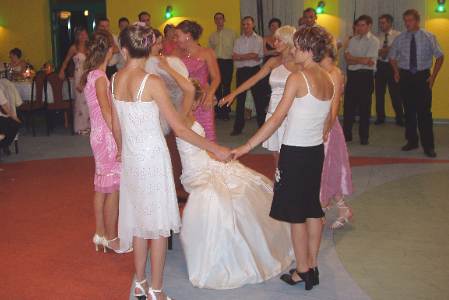 Maidens encircling the bride.
Similarly, the groom is seated and surrounded by men. The purpose of the men is to keep the bride from getting the groom's necktie. At some point, she usually gets the tie anyway. Once again, the groom is seated. The bride covers the eyes of the groom, who holds his necktie, with the men encircling him. The music starts and when it stops, the groom pitches the necktie over his shoulders and one of the encircling men catches it.
Most often, the ones who do the catching are next in line proposing to get married. At least that has been the situation at the three weddings I have attended. Others seem to give way to the engaged couple. Next, they have to wear the tie or veil that they caught, and do some tricks, like dance together wearing a swim fin. Also, at some point, they have to dance atop a chair. This is usually done in the center of the dance floor and enjoyed by all who are present and, in some cases, still awake.
Other games consist of couples encircling a few chairs, and when the music stops, they have to sit on one of these chairs: male first with female on his lap. There is one less chair than the number of couples, so that the last one to make a move does not have a place and is thereby eliminated. The game continues until only one couple is left.
These games often take around an hour or so to complete. In this way, there is nothing boring about attending the reception. Usually, something is happening to keep the interest level high. Being that there is a lot of tradition to these events, everyone knows ahead of time what to expect.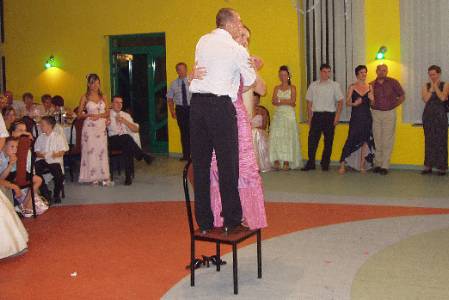 The winners do the chair dance wearing their winnings.
About every four hours, the kitchen help brings out freshly cooked food and spreads this out on the tables. Clean plates are placed atop the tables in front of each and every seat, whether people are seated or not. Most often, the band takes a break around this time, and many attendees sit down and partake of the vittles. It's necessary to eat and drink to provide sustenance for the long night ahead. It's the same with drinks. Most often, but not always, bottles of vodka give way to freshly brewed and hot coffee, as the evening progresses and the early morning hours begin.
Around midnight, the bride and groom carry huge bouquets of flowers and set them down in the center of the dance floor. The purpose of the flowers is to give them to the parents in appreciation of their attention and devotion to the newlyweds, during their lifetime so far. The bride and groom, along with the parents, form a dance circle about the flowers, the band plays traditional music, and songs are sung. The words to the musical presentation bring out a lot of mixed emotions—mostly to the parents and their children, but also to many of the other attendees. I've often seen smiles change to tears and then back again.
On one occasion, I saw the mother of the bride get so emotional, she had to leave the dance floor just to compose herself. I understood it fully, although the words were meaningless to me.
| | |
| --- | --- |
| Bouquets of flowers serve as gifts for the parents from the bride and groom. | Newlyweds honoring their parents in the center of the dance floor. |
Both the bride and the groom exchange hugs and kisses with both sets of parents, during this interlude. The air is filled with deeply felt emotions. It's always a good idea to bring a couple of handkerchiefs to these events. This is usually followed by a break, so that everyone can get their attitudes adjusted back to having a joyous time. Besides, they have to remove the large bouquets of flowers from the center of the floor too.

After that, everything seems to transform itself back to normal, and the dancing, drinking, and eating resume. If things follow the usual pattern, there is still around six more hours to go.

The early morning hours seem to drag on for me. My nieces kindly suggest I eat some more when all I care about is going to sleep. Even if I blink my eyes, or do a slight yawn, they are there to prod me along. I am always deeply appreciative of their efforts. At times, I do get up and dance, but sort of regret it later, as the old legs tire. If nothing else, it makes sitting down much more enjoyable. It is during these "time-outs" that I meet and greet another relative.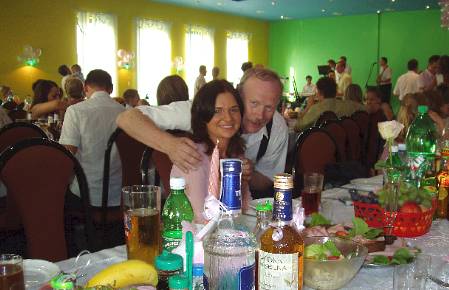 Author posing with one of his many nieces.
Although I never took a count, it's likely that I met around thirty relatives at this wedding reception. As I previously said, they came all the way from the vicinity of Poznan to the northwest and from the vicinity of Wroclaw to the southwest. Most of the invitees came via train; however, several traveled by automobile. It definitely lengthened my Christmas card listing. As the time passed, I must admit that I began looking at my watch more often. A few times, I checked to see when the end would come, but was most often told "Soon!" The music still played on and dancing continued, almost unabated. I began to wonder where all these people acquire all their energy. They sure had it all on display, that's for certain.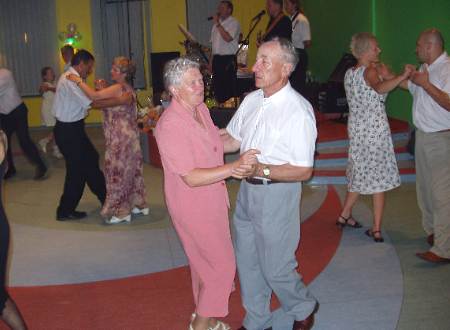 Parents of the groom dancing to the music
During the "wee" hours of the early morning, some guests began departing for home. They first spent a short amount of time with the newly-wedded couple, congratulating them one more time. It was at that point in time that the couple often handed them a nicely wrapped box to take home—filled with "goodies" like pieces of wedding cake, cookies, and the like.
For me, my participation in the celebrations came to an end around 6 a.m. on Sunday morning. I had given it my "best shot" for 16 straight hours (2 p.m. on Saturday to 6 a.m. on Sunday). I was exhausted.
A small bus took me, along with a bunch of others, back to the center of Debica. The driver was kind enough to drop me off right in front of my hotel. I almost fell out the door when I got off. Much to my dismay, the front door was locked. I walked about a city block to a line of small stores and found a telephone on the outside of one of them. I put in a bunch of small coins and then dialed the number I had been given; no one answered. So, I mumbled a few words—perhaps too loudly—and stumbled back to the hotel. All I could do was knock some more. As it turned out, it took me the better part of thirty minutes to awaken the night help. Once inside I climbed the steps, and immediately went into my room. Without pause, except for loosening my necktie--I flopped atop the bed. I remained in that position for several hours. I even missed breakfast.
Most often—in accordance with tradition--guests get together for one last time, during the afternoon of the third day. Usually, this is at the home of either the bride or the groom. The affair is called "poprawiny" in Polish. I understand it means "attitude adjustment" when translated. I got there at 4 p.m. by riding the small bus from town. To say the least, I was pleasantly surprised to find so many people in attendance.
During this final gathering, guests eat some more food, participate in toasts by drinking some more chilled vodka, and engage in light conversation. Relaxation is the only imposed requirement. After all, they may not see each other for a long time. As for myself, I ate some more terrific food and drank too much "wedding" vodka. It occurred on an otherwise empty stomach. I had actually slept right through breakfast, and it was already past lunch time. So, I had a "ready-made" excuse for my indulgences.
Everything finally ends and people start leaving for the long drive home, knowing that tomorrow is a full day of work. So, hugs, kisses, and well-wishes are once again exchanged, as guests depart. My thoughts began turning to the lengthy train travel ahead of me. So, I too bade farewell, especially when darkness began to ensue. Soon, my "cabbie" arrived and away we went.
The wedding enabled me to meet many more of my maternal relatives, obtain a lot of names and addresses, and take numerous photos. Finally, and perhaps most important to me, I left with a good feeling deep down inside of myself.


Top photo by Karen Wisniewski, 2006
Wedding photos by Dick Slowik, 2005
Dennis Benarz & Karen Wisniewski, USA 2008