.
1100-1300 AD
From a local history by Wladyslaw Bartosz
Translated by Grace Skowron and Dennis Benarz
"The Czarna area has since ancient times been a part of the Pilzno community, when the local Polish settlements were a part of the Province of Sandomierz. In the 12th and 13th Centuries, intense settlement efforts took place on these lands. It precipitated the settlement of Borowa, Glowaczowa, Grabiny, Chotowa, Jazwiny, Wiewiorka, and Zdzary."
| | |
| --- | --- |
| "In the 14th Century, in the newly cleared woods and drained wetlands of the Sandomierz Forest, new villages were born: Jawornik, Jastrzabka Stara, Czarna, as well as Machowa. These villages were created with the consent of Prince Konstantego Ostrogskiego (1463-1530), the administrator of Kijow, and were supervised by Jana Tarnowskiego (1488-1561). Together with the Wiewiorka Key, they all belonged to his giant estate." | Photo by Andzrej Trzaskus & Szczepan Lach, 2002 |
"The estate was later given to the daughter of of the House of Radziwill. Radziwill's husband was the chancellor of Trocz. A few of the villages of the Wiewiorka Key were later given to Zawisza Czarny of Grabow, a hero in the battle of Grunwald, by King Wladyslaw Jagiello. Animal breeding and farming were the main occupation of those settlers until the end of the 15th Century. Settlers rented their farms. The very first farms were administered by a soltys (an appointed custodian) on behalf of the nobles."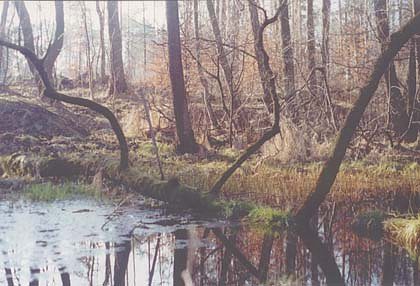 Photo by Andrzej Trzaskus & Szczepan Lach, 2002
.


Grace Skowron, Chris Owens, and Dennis Benarz, 2003-2005
.