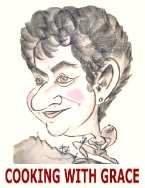 Apple Rings (Jablka Smazone w Ciescie)

2 eggs, separated
40 g sugar
5 tbsp cream
110 g plain flour
1 tbsp corn flour
450 g cooking apples
110g butter or oil
Icing sugar

To make the batter, beat the egg yolks with sugar and cream. Whisk the egg whites until very stiff and fold in. Sift the flours and mix in lightly.

Peel, core and cut the apples into rings. Spike the rings and turn in the batter.

Melt the butter or heat the oil in the frying pan, and drop the apple rings into it. Fry on both sides until golden and puffed up.

Pile on a plate and sprinkle icing sugar over them and serve immediately.

Serves 2 to 4.

Copyright 2005 by K. Wisniewski and C. Mrowka
"1945 Victory Cafeteria" Hamtramck. madamlazonga@hotmail.com