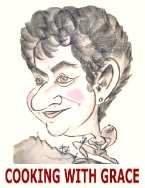 BARSZCZ (Borsch)

Ingredients
 
1 1/2 neck bones (or spareribs )
6 medium size beets shredded coarsely
1 medium onion chopped
2 larger carrots sliced
1 large parsnip sliced
juice from one lemon
1 cup of shredded or chopped fresh cabbage
2 medium tomatoes cut into wedges
5 grains allspice 
3 bay leaves
3 wedges garlic chopped
2 cups sour cream 
salt and pepper to taste
Green onion, parsley and dill, all chopped, always gives nice flavor to any borsch, but add it right at the end of your cooking. In a large pot with about 3 L water, slowly boil neck bones with salt and pepper. When they are semi soft, add all vegetables except garlic. You may cook beets in a separate pot, or add into veggies now and cook it together, but with beets, at once add juice from lemon. This will give your borsch a nice color. If you add juice later, your borsch will be brownish, not red. Taste your borsch and check if you have enough of salt and pepper to your liking. If you wish, you may add a bit of sugar just for taste (optional). You can also add sour cream about 1 minute before you finish cooking your borsch. Stir sour cream well in container or cup, then pour into borsch. Sour cream can be served separately on table. About 5 minutes before you will remove your borsch off the burner, add chopped garlic and cook it together.
Borsch can be served with hard boiled eggs sliced or cut into wedges. It can be served with tiny mushroom pierozkie (called "uszka") for Christmas Eve. They can also be served with crepes filled with prepared cabbage. Do not use vinegar in your borsch. Use either lemon juice or sour salt, but only very few grains of sour salt. If you have juice from Polish dry mushrooms or mushroom bullion from a Polish store, do not be afraid to add it into your borsch. It gives special flavor and taste.