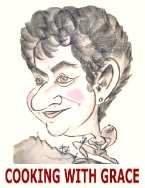 GOLABKI (Polish Stuffed Cabbage)
Ingredients:
1 medium cabbage
1 cup rice
2 ½ cups water
1 large onion, minced
3 tbsp butter or margarine
1 lb ground beef, (or ½ pound ground beef and ½ lb ground veal or pork)
1 x-large egg
1 tsp salt
¼ tsp pepper
1 large garlic clove, finely chopped (optional)
1 can (15 oz) tomato sauce
Polish /Ukrainian method:
Remove the core from cabbage. Place in a pot of boiling water to cover and cook for 10-15 minutes. 
Drain, cool and separate leaves. Trim down thick stem on each leaf.
Bring 1 ½ cups of water to a boil and add rice. 
Over medium heat, cook rice for 5 minutes, or until it has absorbed all the water. Set aside.
Saute minced onion in 3 tablespoons butter or margarine.

Combine the meat, rice, onion, egg, salt, pepper and garlic. Mix thoroughly.
Preheat oven to 375. 
Place about 3 heaping tablespoons of meat and rice filling on each leaf.
Roll the leaf, tucking sides either inside or under. Repeat with remaining leaves.
 
Place the cabbage rolls close together in a baking dish or Dutch oven. 
Mix the tomato sauce with the 1 cup water and pour over the rolls.
Cover and bake in the oven for 1 ¼ hours.
 
Yields 4 servings.
GRACE SAYS:
Some( not every type) cabbage is hard and even after steaming it for a longer time, leaves won't come easily off. I learned an easier method. I would buy cabbage a week before making my cabbage rolls and I freeze it in plastic bag. A night before making my dish, I remove cabbage from freezer and place it in that plastic bag overnight in the sink. Now the leaves come off easily.
The first couple of large leaves I spread at the bottom of my baking dish. Then I put in the cabbage rolls. I pour my Cattelli or other brand tomato juice with basil and garlic over the cabbage rolls. Now, I cover it with tiny leftover leaves. I place the lid on my baking dish (roaster is very good for this).
I also spread some foil under the baking dish at the bottom of the oven. Over-boiled juice may make some mess there.
My cabbage rolls are ready when the leaves covering the cabbage rolls are brownish in color.
Cabbage rolls can be easily frozen and used at a later time.

Copyright 2005 by K. Wisniewski & C. Mrowka
"1945 Victory Cafeteria" Hamtramck madamlazonga@hotmail.com