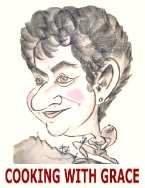 PLACKI ZIEMNIACZANE (Potato Pancakes)

Ingredients

3 cups finely shredded potatoes
3-4 tbsp flour
2 tbsp minced or chopped onion
3 large wedges of chopped minced garlic if desired
1 tsp baking soda
Margarine for frying
Salt and pepper to taste

In medium bowl, stir together all ingredients except margarine. Melt margarine in non-stick frying pan over medium heat. Spoon the dough onto a very hot skillet. Fry until golden in color, turning only once. Serve them hot immediately after frying, serving with sour cream. If you wish, you may use some apple sauce instead of sour cream.

GRACE'S HINT: Instead of flour, try bread crumbs.


Copyright 2005 by K. Wisniewski and C. Mrowka
"1945 Victory Cafeteria", Hamtramck MI