NO DOUBT ABOUT IT,
I LIKE A LOT OF STUFFING
By Richard A. Slowik
The other day, while shopping at Kroger's, I saw something new in the frozen foods department that really whetted my appetite. It was a box of stuffed cabbage or golabki as I learned to call it. The picture on the front of the box captured my attention.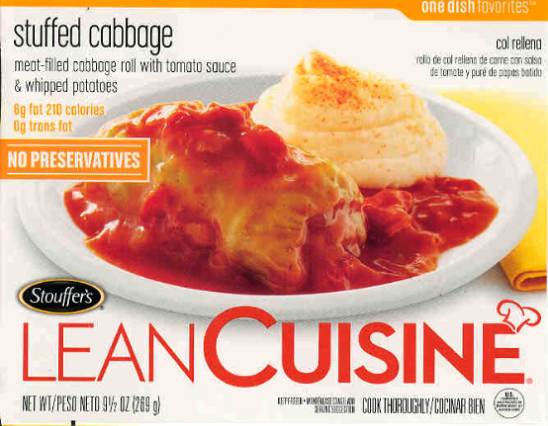 As soon as I got home, I followed the directions, opened the container it was in, and heated it in the microwave. When it was ready, I was more than willing to give it a go. How did I like it? Why, not much at all. The cabbage was very thin and somewhat dried out. The stuffing consisted of beef, pork, rice, etc., but had very little taste. I was expecting something spicy, zesty, or at least flavorful. Instead, it was flat and I'll never try it again. On the box they depict a sauce chock full of vegetables. Not so with the contents of the box I had. Also, they show a lot of sauce, which was not the way my box was after I heated the contents. Definitely not what your mother or grandmother used to make.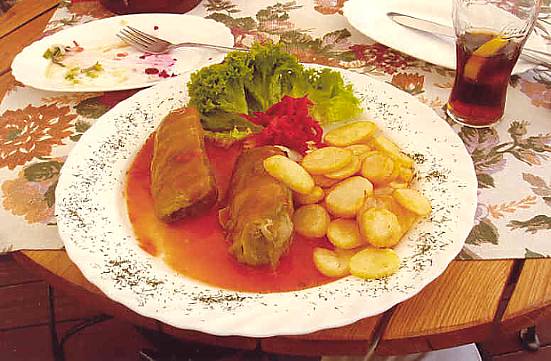 Golabki as served in Warsaw.
The best golabki I ever ate was at a restaurant called Arkadia on the rynek (town square) in Warsaw. It just "melted in my mouth" as the saying goes. I enjoyed each and every morsel I put in my mouth. Along with it, I had a leaf of lettuce, fried potatoes, and some shredded beets. Naturally, it was fresh and had not been previously frozen, at least as far as I was able to tell. So, my standards have been set very high, as a result. I consider myself somewhat a fancier of the dish. In fact, I try to eat it as often as I can. The best stuffed cabbage I ever ate - in Warsaw, Poland.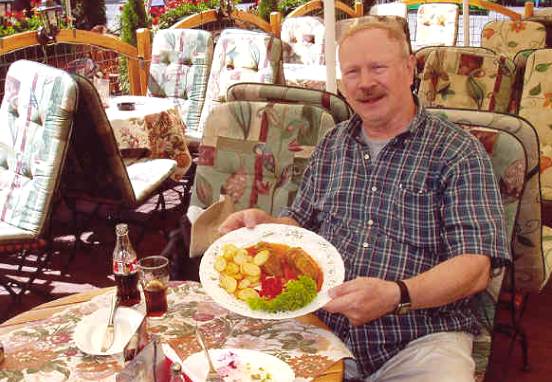 The author with golabki at Arkadia in Warsaw.
This I have done in many places and many times. Once, in Debrecen, Hungary, I was visiting with a high school friend of mine and we had traveled there to see a college friend of mine. Afterwards, we went to a restaurant and lo and behold, they had stuffed cabbage on the menu. I did not hesitate. It was better than most Polish restaurants I have eaten in. I heard that they use more pork than we do. The name and location of this place, I forget; however, it was very close to the John Bull Pub, in which we had all enjoyed some wonderful tasting beer earlier. If I am ever back there, I will pay a return visit.
Of course, my mother and grandmother made some very fine tasting golabki. Being poor, we had to use catsup as a condiment. Unfortunately, it does little to enhance this dish. In Detroit, I go the Under the Eagle located in Hamtramck. They serve a great dish of my favorite meal. Unfortunately, it has been frozen and the taste is just not there anymore. My uncle insists on eating there, however. When I am in Chicago, I go to the Red Apple and enjoy their offering. My preference is for the tomato sauce. They serve it with the white sauce - definitely not my favorite. Probably my least favorite place is Yudyta's - a Ukrainian restaurant I visited in The Forks Shopping Mall in Winnipeg, Manitoba, not long ago. After waiting around a half-hour for the pressure cooker to perform its magic, I was very hungry. Two were placed atop a paper plate and handed to me. Using my plastic fork, I stabbed one of them to hold it in place, while I sawed away at it with my plastic knife. To my utter amazement, there was little if any meat inside. It was almost all rolled cabbage, stuffed with a few pieces of meat and rice. After burning the roof of my mouth, I was greatly disappointed with the offering.
So, in my quest for the perfect golabki, I know I found it in Warsaw. Now if only I could find it someplace closer.